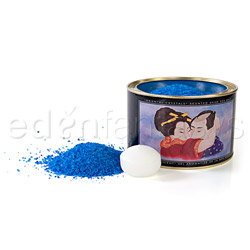 What do you look for in bath crystals? Did you know that not all Bath Crystals are created equal. Shunga oriental bath crystals are the most luxurious bath crystals I have ever used. I began using Shunga oriental bath crystals just a few weeks ago, and now I am hooked, I find excuses to take more baths instead of showers and we all should.
Shunga oriental bath crystals make your bath more relaxing and have a soothing effect on the skin. Made with Dead Sea salt these crystals have many positive properties making your skin soft, smooth and healthy. When Including the candle it adds a romantic touch to your bath routine. The  bath crystals come with a cute shell scooper, just add one 1 scoop to your tub.  With one scoop in a regular size tub you will get blue water for the Ocean scented one and a clean  and calming scent in your tub. Light up the candles, put some relaxing music on and you got an Oasis. Can I tell you that these bath salts are super nourishing to your skin. Your skin will feel silky soft just from soaking in it. The Shunga Oriental bath crystal are packed in a sturdy metal tin (similar to a paint tin) with a pry top that is easily popped open. The metal tin has a cool design on it of an oriental female, it reminds me of and Ed Hardy design, but it's actually Shunga art.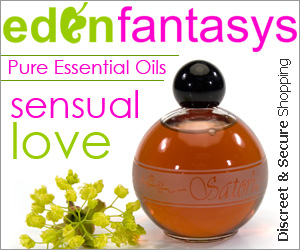 Shunga oriental bath crystals are available at edenfantays.com for $19.99 in Ocean and Aromatherapy Sea salt, 1 floating candle .
Disclosure:
I received a Gift for this post by Eden Fantasys. All opinions expressed in this post are my own and not those Eden Fantasys.